Our Brazilian Jiu-Jitsu Classes Are Perfect For Self-Defense And Fitness
We are proud to offer a BRAND NEW Brazilian Jiu-Jitsu program at Jurassic Martial Arts + Fitness! This ground-based self-defense system is the perfect way to build strength and learn skills for the real-world and competition setting.
Join us in Palmetto and learn how to ground grapple and maintain leverage over an opponent from any position. Just fill out the short form on your screen to get started today!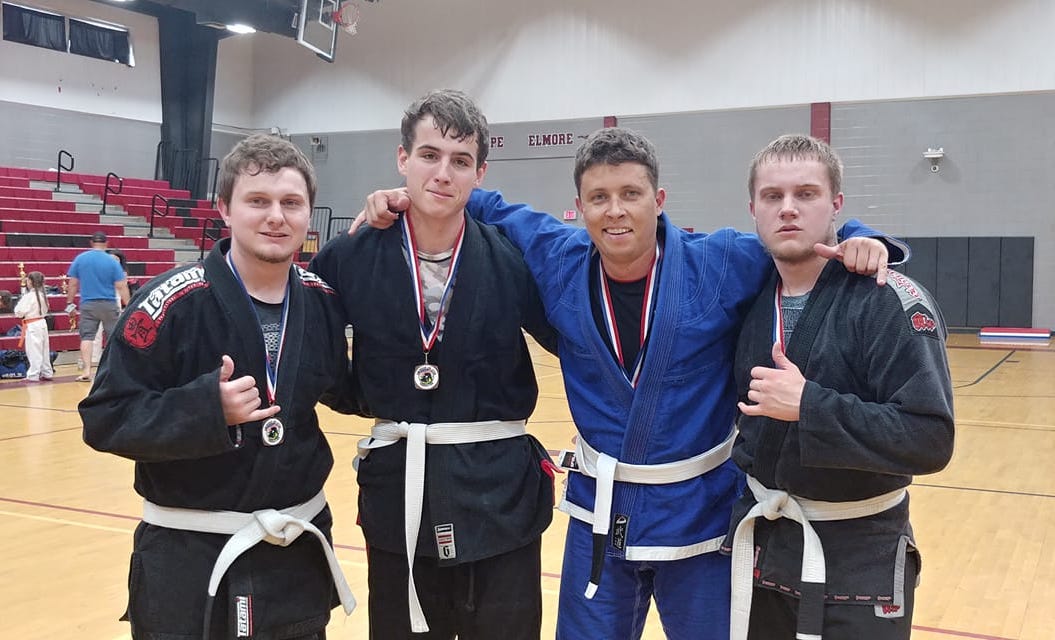 Why Is Our Brazilian Jiu-Jitsu Right For You?
BJJ is a unique self-defense style based almost exclusively on the ground. The sport teaches smaller, weaker fighters how to overcome a larger opponent with the help of superior leverage and technique.
In our Brazilian Jiu-Jitsu Classes, we're helping men and women of all experience levels learn how to generate power from any position and maintain control over an opponent.
At Jurassic Martial Arts + Fitness in Palmetto, you can learn:
Throws, takedowns, and transitions
Locks, chokes, and holds on the ground
Effective defensive strategies form any position
Submission skills to help you come out on top
PLUS, Our BJJ Classes Are Perfect For Real-World Self-Defense
Did you know that most real-world altercations end up on the ground within seconds? Our BJJ Classes can help you stay safe in the face of real-world danger with the best ground-based fighting skills across Palmetto and Memphis.
Brazilian Jiu-Jitsu is all about maintaining control of the situation and using your opponent's strength against them. We help you do that and more with hands-on instruction in a safe, supportive environment.
You can quickly enjoy:
Total-body strength and agility
Improved situational awareness
Effective strategies for leverage and space
Defenses against tackles and sneak attacks
Get Started Today With Our Brazilian Jiu-Jitsu Classes For Palmetto And Memphis!
We're excited to offer cutting-edge Brazilian Jiu-Jitsu classes and we can't wait to share it with you. Join us in Palmetto today and challenge your body and your mind with the best ground-grappling skills around.
Fill out the short form on your screen to learn more about Jurassic Martial Arts + Fitness or to get started today!